Are you thinking about redesigning your kitchen? If you are, you might be exploring the possibility of an interior design service. This is really the best option because you're investing a substantial amount into your kitchen project and you want it to be a hit, not a miss. Professional Interior designers are trained to know good design. It is a skill and a science. If you don't have a knack for interior design or know what you are doing style or design-wise the project could go downhill super fast. That's just wasted money. However, if you have a very small budget, completing the work yourself, may be your only option and better than not doing anything.
There are some really fantastic DIY options that will make your home look stunning, and your kitchen stand out as the piece de resistance.
Here are a few of the coolest ideas that won't cost you anything at all and will look absolutely incredible.
Sand-Down The Fittings
Perhaps, you want to give your kitchen some new color this season. If that's the case, you can consider sanding down your fittings such as cabinets and draws. When you do this, you will reveal a lighter, brighter color underneath, perfect for the lighter kitchen trends. Once you have sanded it down, you can then paint over it again, giving it a gorgeous finish that looks absolutely wonderful.
Try A Little Upcycling
You might have a spare piece of wood, lying around somewhere or concealed in the rest of the junk that is probably building up in your garage. If that's the case, you could use it as a brand new side counter for your kitchen. Or, perhaps even a center table. To do this, all you really need is a couple hairpin legs to ensure it stands up. Securing these with a few screws is easy, and then you just need to work on making the wooden top look tremendous. You can do this, in the same way as the cabinets. Use some sandpaper to get rid of the muck and cut up the surface. Then, paint over it, and it will look wonderful. You can use any type of wood to do this, but a large thick slab of oak will look fantastic.
Make The Floor Shine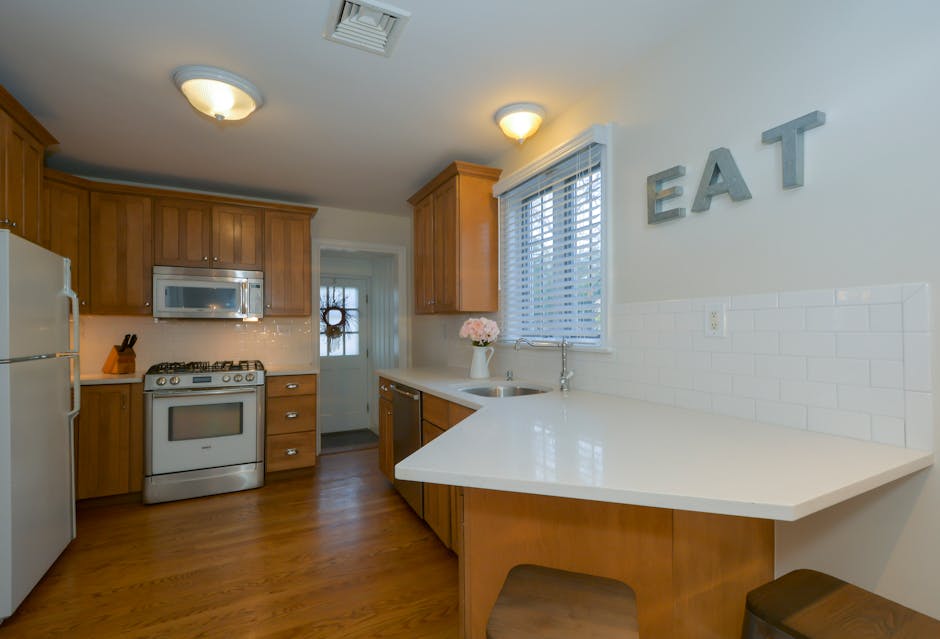 Do you have a tiled or stone floor in your kitchen? Either way, you might want to give it a little more shine. To do this, you should consider adding a covering of epoxy resin. With a covering like this, you can give any material the look of glass or even moving water. Visually it can be very impressive, and it won't cost you much at all.
Here's an extra little tip. Think about the lighting that you're using in your kitchen. If you're still using halogen bulbs, try switching to LEDs. LEDs look awesome, giving off a naturally brighter light without any heat. As such, they'll make your kitchen more beautiful while using less energy!
Add Some New Handles
If you want your kitchen to look a little more modern and contemporary, try replacing the handles on cabinets and drawers. If you make the right choice here, you can ensure that the kitchen looks stunning with a fantastic modern aesthetic. Right now, hard, industrial looks are in style so you should think about selecting similar choices for your kitchen.
As mentioned before, I highly recommend using an interior designer to make sure you are not piecemealing the kitchen together.   However, using this advice you can make your kitchen look absolutely incredible even without spending a fortune.
This post is a collaborative effort and may contain relative and relatable affiliate links. All opinions are our own and for informational purposes only.